Basic policy on safety, health, environment
---
Tabuchi Kaiun Co., Ltd. has established the following basic policy to secure and maintain safe vessel operation, safeguard the health of its onshore and offshore workers, and ensure actions promoting environmental conservation when performing shipping management operations of liquid chemical bulkers, oil tankers, cement tankers, and liquefied gas bulkers.
We shall strive to secure and maintain safety, health, and environmental protection and prioritize them.
---
We shall establish a management system for safety, health, and environmental protection to materialize the basic policy and focus on the following matters.
Establish annual and monthly goals, evaluate performance, and promote the achievement of no accidents.
Provide education and training for crew members (MSDS, port and harbor information, marine regulations, and emergency drills).
Comply with environmental laws and regulations, prevent accidents, and preserve the environment on the basis of the Company's experience and industry information.
Recognize outstanding effects on safety, health, and environmental conservation.
Corporate managers shall evaluate annual performance and make improvements.
Promote on-board activities and vessel operation with no accident.
---
Environment and safety management activities
---
■On-board activities
Safety management personnel are stationed at major ports (Chiba, Tokyo, Osaka, Niihama, and Tokuyama) and visit over 4,000 ships annually to provide safety guidance and caution on the operation of vessels.
■Regular safety meeting
We summarize our daily safety activities every month, review problems, consider reform measures, and discuss consultation and guidance methods for each vessel.
■Tabuchi Kaiun Safe
Transportation Council We promote safety activities of the entire group, together with the respective shipowners. We also recognize excellent shipowners and vessels.
---
---
◼︎ Introduction of the ISM Code
Acquired the company's compliance documents of the ISM Code in October 1997; we perform vessel operation management on the basis of the ISM Code.
ISM Code:International Management Code for the Safe Operation of ships and for pollution prevention It stands for the International Safety Management (ISM) Code.
■Background to the adoption of the ISM Code
After the sinking of the Titanic in 1912, the International Maritime Organization (IMO) established the International Convention for the Safety of Life At Sea (SOLAS Convention), 1974, to improve equipment and facilities. However, as 80% of the recent marine accidents have been caused by human error, regulations on aspects such as personnel and their skills were added as Chapter 9 of the SOLAS Convention.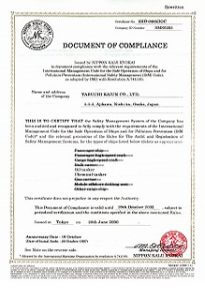 From July 1, 1998, the application of the Code was enforced in the case of vessels engaged in international transportation (except for general vessels), and the operation management of companies and vessels without the Code was no longer allowed. Voluntary acquisition of the ISM Code for domestic vessels also became possible in October 2000.
DOCDocument of Compliance (DOC) and Safety Management Certificate (SMC) are issued to companies and vessels conforming to the ISM Code.
In October 1997, the Company acquired a DOC from Nippon Kaiji Kyokai (Class NK), an audit authority of the ISM Code, and in December 1997, we obtained the SMC for Shosei Maru (chemical tanker).
◼ Safety collaborative activities with shippers and public institutions
We participate in a variety of safety cooperation associations and engage in safe operation and transportation in collaboration with shippers and local communities.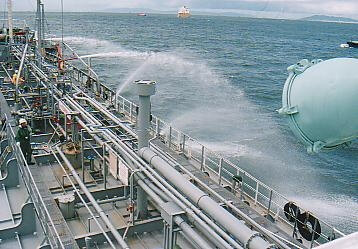 Water shuttle training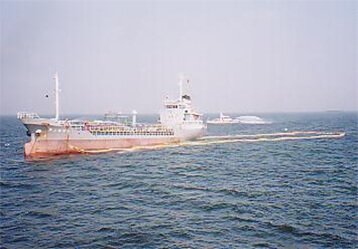 Oil removal training with oil fences